Posting charts to alternate charts folder when
daCharts server is not available
On 7/27/2003 Scylnx implemented an alternate Daily Charts system to be used when the daCharts server is not available. This should decrease the cases of severe Daily Folder withdrawal syndrome which have been noticed at such times.
When the daCharts server goes down, please give Scylnx or Buffy a few minutes to create a Daily Charts folder, as you will not be able to post charts until this has been done.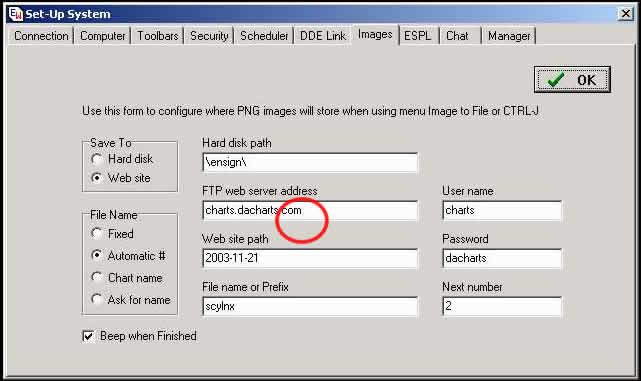 Please note the following:
The only configuration change you will have to make in Ensign will be to change the circled .com to .org (see above) on the Setup/Images page.

The alternate Daily Charts folder will only be available when the daCharts server is down. When the server comes back up, the alternate folder will be disabled, and you should resume posting to the "regular" folder. You will still be able to read those charts until the end of the day when they will be moved to the regular folder.

When the alternate Daily Charts folder is active, you must use a browser (not eChat) to access posted charts. [Note to Howard -- do not fix this, this comes out of my personal bandwidth].

If bandwidth usage is excessive to the point of affecting my personal trading, this will be shut down as a good idea that didn't work.
Obviously you will keep your own File name or Prefix
scylnx
Updated 11/28/03 9pm